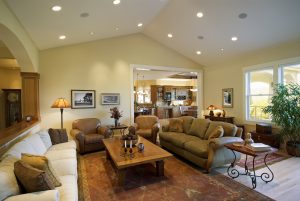 Unlike decorating, staging your home isn't about personal style — it's about creating ambiance and appeal for buyers.
Selling your home means selling a lifestyle, but not necessarily your own. In home staging, you're striving for a look that is fresh and welcoming yet not really taste specific. People with varying tastes need to feel that they can make the home their own if they purchase it.
This is the distinction between decorating your home and staging it to sell. It can be hard to understand at first, but if you don't know the difference, you might not sell your house as quickly as you like.
Although everyone has different tastes in decor and furnishings, most people want a home that is welcoming, functional, peaceful and organized. Tailor your house so that buyers will describe it in those terms rather than by your style of decorating. Getting rid of clutter and having fewer but larger accessories is a great place to start.
Making sure your home isn't taste specific doesn't mean your rooms should be devoid of color. Instead, keep color schemes simple and dose them with an on-trend neutral, like a clean tan, a soft gray or a warm white.
If you have a distinctive decorating style — whether it's Tuscan, shabby chic or modern — you're going to need to scale it back a bit. If you don't, your home will appeal to the small percentage of potential buyers who love your chosen style. Staging is about strategic editing and depersonalizing, rather than decorating and personalizing.
Dated is dreary. Strive to stage your space with a current and fresh feel. Use updated neutrals on the walls and furnishings that are clean-lined and simple. Punches of color are great; just use them sparingly. A room arranged symmetrically and centered on the architecture reads as peaceful — one of those important aesthetics every buyer is drawn to.
This guest bedroom is full of great staging ideas. It has lots of on-trend design details, but it's sparse on accessories and other distractions. The color palette is simple, easy on the eyes and would be attractive to both men and women. Most potential buyers would remember this appealing room long after leaving the house.
This clever arrangement draws attention to the unique architecture in the space and illustrates a smart use for the area under the stairs: an office nook. This area is nicely decorated, not staged.
If I were staging this area, I would keep the desk, chair and lamp, remove overly personal items such as family photos, and leave a few pieces of art and an attractive notebook and pen. Simple accessories can help draw attention to a functional space.
If you are updating a kitchen or bath before putting your home on the market, keep the finishes neutral and classic. This is not the time to show off your personal style. You want to broaden your buying audience by appealing to a wide variety of tastes and preferences. This bathroom would definitely appeal to buyers with either traditional or contemporary taste, and could later be personalized with the new homeowner's preferences for color and accessories.
Sure, this may not be what normally sits on your countertop, but doesn't it look better than the usual bills and coupons? Remember, you are selling an idealized lifestyle, not your reality.
The bottom line is that you have to get outside your head and inside the mind of a potential home buyer. It's very difficult to be objective about your own home, but it's crucial if you want to sell it.
For more information regarding this blog, please visit Houzz.com.